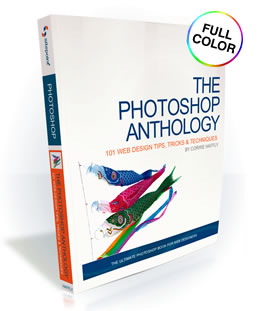 Site point is giving away PDF version of The Photoshop Anthology book. It consists of full fledged Photoshop designs especially for web designers. Usually most of the Photoshop books available across market contain tutorials based on print designs but this book is aimed fully at web designing and how Photoshop impacts it.  Corrie Haffly, a famous web designer and developer is the author who created over 400 website templates and designs. You can have a look at her works in her official site CorrieHaffly.com.
This e-book consists of step by step instructions and tutorials about creating effects and graphics for your website. This is a must for every web-designer who uses Photoshop for their development. Although you can order a hard copy of this book from site point, for a limited period of time they are giving away free download of PDF Versions of this book. As a web designer I myself should not miss this opportunity and so wanted to share this news. Still 12 days remaining for the offer to end, i recommend everyone to download this book doesn't matter you have to be a web designer but it helps you enhance your Photoshop skills.
What you learn from this book
Learn the basics: image sizing, layers, vector shapes, transparency, and more.
Create a multitude of attractive buttons: aqua-style, metallic, glassy, etc.
Improve digital workflow
Create seamless tiling backgrounds: rice paper, brushed metal, and granite, plus many others.
Work with text: style it, create special effects, and wrap it around 3D objects.
Touch up photographs, match colors, and combine different images.
Use eye-catching special effects.
Isolate objects from images.
Make graphics for CSS rollover buttons.
Design an entire web site and easily switch between different versions
Optimize graphics for web use.
Work smarter: automate your workflow with batch commands and actions.
Create animated GIF and more….
Site point provide the download of book in two versions of PDF, High quality version is 64mb and low quality is 23mb. You can simply download the book by entering your website in this site.
Download Now | Sitepoint | Author: Corrie Haffly |