Tomorrow it does goanna be a big day for everyone especially lovers. Yeah you are rite, its Valentine's Day. Usually this day is celebrated February 14 of every year in which lovers express their love in a way of sharing greeting cards, flowers, and gifts or maybe kisses 🙂 . Love never cares about time or age, if you are young at heart and have the endurance to express pure love for your partner then you too can celebrate it. As you all very well know that I don't have a girlfriend till now nor or a lover so usually I am idle tomorrow and watch others fiddle their lovers. Yeah, that's what I am doing for years.
Ok I will keep aside my stories and come to the point. Usually during Valentine's Day people used to judge others love status by the color of dress they wear and so this year they have coded a new info for different colors of dress. Check for yourself the colors below and make sure you don't get into other people's eye.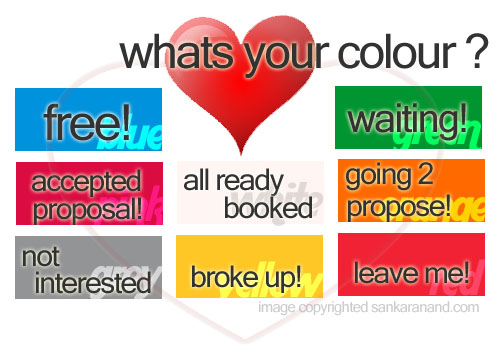 And one more thing, I wanted my blog readers to ask some questions! Some of them are
1.Are you in love with someone? If so express your story.
2.What's your opinion about love?
3.If you are not in love, do you have any determination to fall in love with someone?
That's it! I am very curious to read your replies!